Congratulations on gaining a place at the University of Warwick!
This page is designed to provide you with Advice and help so that you can make the transition to university as stress free as possible. It outlines some of the things you might want to know before Uni, When you arrive and for the degree ahead of you.
Week 1 Schedule
The first week is very hectic and there is a lot that goes on. Shown below are the key events that you will want to attend. They are split into School of Engineering Events (these will be on your timetable), General SU Events and Engineering Society Events.
Freshers Top Tips
Download the MyWarwick app - it pulls together information from various aspects of student life on campus and is a great tool to have. You can download it here for iOS and Android

Take every chance to meet as many people as possible. You don't know what kind of people you are going to meet but get out there to find students with similar interests of your own.

Take care of your health, physically and mentally. There are always people available for support. You are a priority over anything else (including your degree)

The more you put into your time at university, the more you'll get out of it.

And lastly….say YES more often - you have absolutely nothing to lose.
For more top tips on your first day at University, check out the help available on the Complete University Guide
First Year Engineering Tips
The course is general for the first year and a half. This means everyone is in the same lectures until Term 2, Year 2.

All modules in first year are core, there are no optional modules.

If you're looking for a new laptop, we would recommend a reasonably modern model with 8GB RAM. This is best to run the Fusion 360 AutoCad software and MatLab programming software that we use in engineering. Having said that, any laptop will work just fine and newly updated computer facilities are available in the engineering department 24/7.

Don't panic if you miss a lecture, it's only your first and it won't be your last. Nearly all lectures are recorded and you can catch up using the notes lecturers make available online.

There's no need to buy Microsoft Office - it's provided for you by the University for free. Don't forget to use your Warwick email to sign up to new software as often students get added bonuses (eg Generative Design is free if you sign up to Fusion 360 with your Warwick Account)

Make full use of the practical equipment and areas. Paying tuition fees you may as well make use of the free materials and multi-million pound equipment available to you. Spend time in the Engineering Build Space completing a personal project and join one of the many student project groups such as Warwick Moto or Warwick Hyperloop.
The information above is given by the Engineering Society alone and is not in any way linked to the University of Warwick's School of Engineering.
Campus and Faculty Maps
The Interactive Campus Map is one of the most useful tools that you will need at the start of your university experience. You can use it to look at, search for specific departments and rooms, find building floor plans and be directed from your current location. If you are lost or don't know where to go, this is the first place to go. Don't be afraid to ask someone though, everyone around campus will be willing to help!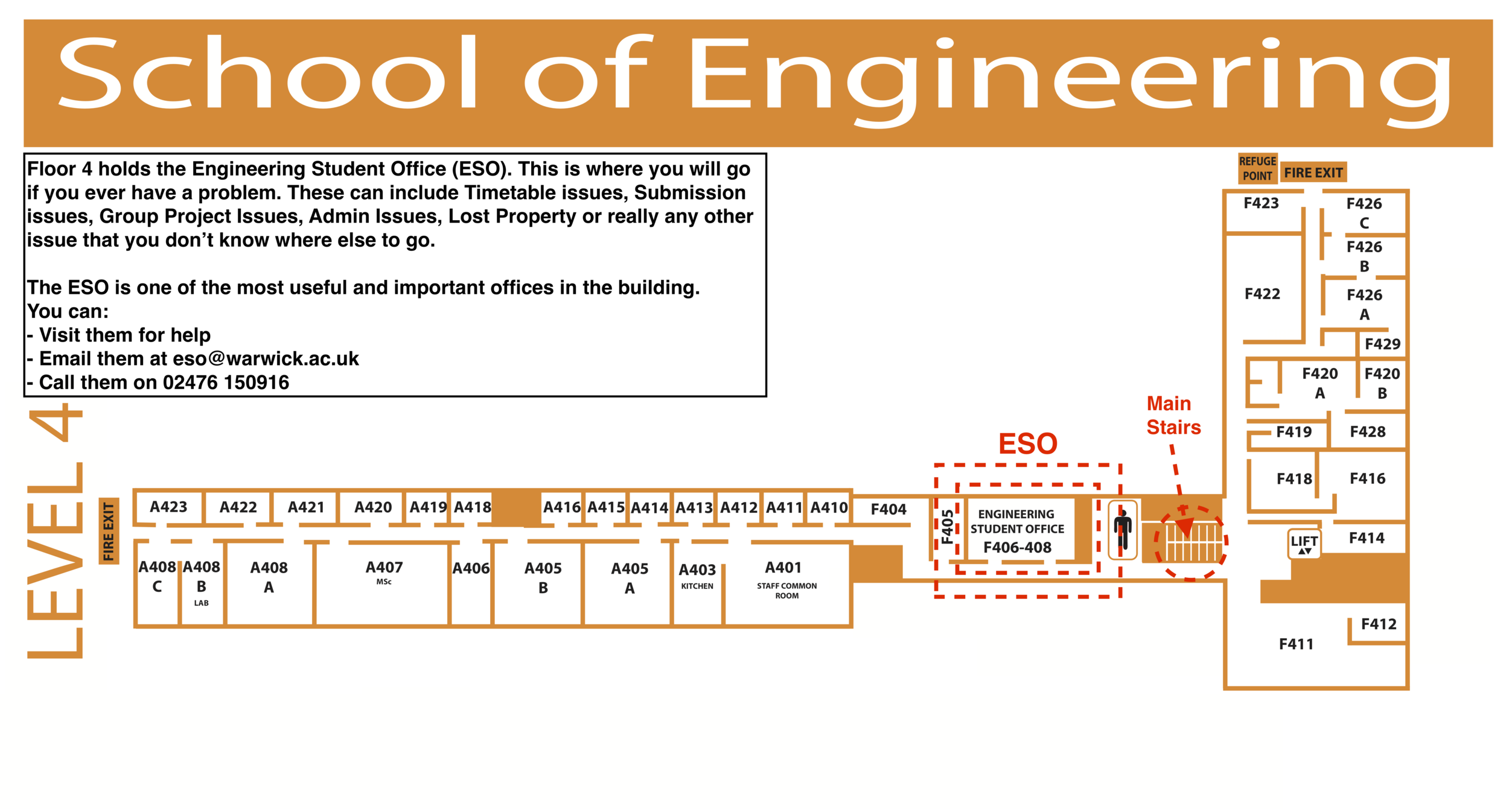 Below is a 360 degree tour of some of the key parts of Engineering. The video can be moved with the mouse or by moving your phone to see around the rooms. This video shows the following areas in order of appearance:
The main entrance. The EBS entrance is behind Georgia and the Engineering Common Room Entrance is behind the Main Building Stairs.

The A206 Electronics Labs (Floor 1).

The Civil Engineering Laboratory D305 (Level 0) whilst also talking and showing other lab areas.

A008 A (Level 0) which is accessed through A008 B.

The Engineering Build Space (EBS 1.3) (Level 1)

The Engineering Common Room (Level 1)
Before you Arrive
The first week can be very busy so to help it run more smoothly, you want to do as much before you get here as possible.
There are 6 main things to do before you get here;
1. Upload a Photo ID
This photo will be used on your ID card. You can upload your photo from your enrolment dashboard or by clicking here. You will need your Warwick ID number, which you will find in your offer email.
2. Course Registration
You will need to register on your course 4-6 weeks before it begins. You will receive an email explaining how to register along with a link for it. You will be asked to agree to the University of Warwick Regulations. The uni will create a temporary password for you. For this you will need;
Your University ID (found in your offer email)

Your Date of Birth

Your Family Name
3.Create an IT Account
Having registered on your course (this must be done first) you can create an IT Services Account. This will provide you with a university email address which you will need to use throughout your time at Warwick.
Click here to register for an account.
The university will only use this email for important messages so you must keep checking it.
Having clicked above and registered for your account it is worth linking your email to your phone/tablet or laptop. It is not as straightforward as with normal emails but a guide on how to do this can be found here.
In general logging in is simple, but when logging into an external webpage (eg. Outlook Online, Office Suite etc) you will need to set your email domain as "U1234567@live.warwick.ac.uk" where it will take you to the university's log in screen.
4. Paying Fees
Once enrolled and Registered you will need to check your fees status through the evision page.
If you are living in On-Campus accommodation, you will need to pay for your accommodation on this page.

If you are an International Student or are not paying fees with Student Finance UK, you will need to pay your tuition fees on this page. (If you are an International student, check out our International Student's Advice Page!)

If you are receiving a student loan, check this page to ensure that it has all been set up correctly by Student Finance. (Ps. if you haven't heard back from your student loans company you may need to submit evidence to them, check your Student Finance Dashboard)
For more information on paying fees or accommodation check out the Student Finance help page.
5. Health Centre Registration
If you are living on or near campus it is a good idea to register with the Warwick Health Centre. This means that if you become ill or need to see a doctor, you are registered here instead of still being registered in your home town. Becoming ill happens to everyone, but it is very important to get a sick note from a doctor if you miss any exams, deadlines or labs so that you can get an extension or mitigating circumstances. This is a lot easier if your registered doctor is at university.
You can register with the Health Centre via the Online Enrolment Dashboard.
You will need;
Your term-time address (if living in on-campus accommodation there is an option for the university to provide this for you as you won't know it yet!)

Your NHS number

Dates of your immunisations (call your current doctor for this information)

Details of any current medication
6. Check your Enrolment Dashboard
All information about enrolment can be found on your enrolment dashboard or in the enrolment email that you will have been sent. Your enrolment dashboard is located within your evision page. There are a number of other optional activities that you can complete on here.
For further help ENROLLING you can check the ENROLMENT FAQ's page or get in touch with us so that we can direct you to where to get help,
YOur first day
Moving in day may seem daunting but there are only a small number of things you need to do.
ACCOMMODATION
If you are living on-campus you will have received an email detailing your arrival instructions, including where to collect your keys.

Although there is no deposit for Warwick Accommodation it is good practice to check for faults, scuffs or damage in your flat and your room. Take photos of anything that is wrong and inform Warwick Accommodation so that they can fix it.

If you are an international student you will also need to complete an in-person immigration, right to rent and right to study check. You can register for once of these by clicking here. They run 21/09 - 25/09 between 10am and 4pm or 26/09 - 1/10 between 10am and 2pm. (Registration opens in September.)

On your first day, your resident tutor will have a chat with your whole kitchen to talk you through all of the accommodation rules and where to find information. Arrive early because this is a great chance to talk to the rest of your flatmates and probably one of the only time you'll be in the same room at the same time.
Socialise!
Once you have settled in slightly and unpacked we would recommend talking to your housemates. Not only is it nice to get to know the people you will be living with but you can discuss buying shared items for the flat such as cooking equipment, condiments and bin bags etc.
As daunting as it is, remember that everybody else that you meet is in the same position as you and they may be nervous themselves.
There will be endless socials on run by the Students Union, Societies or by the University itself. Lookout for Engineering Society Events on our Facebook Page or on our Upcoming Events Page!
Explore Campus
Spend some time exploring campus. You will be spending a lot of time on the campus so its good to get your bearings! Go for an explore, find the School of Engineering, find your favourite coffee shops and restaurants. It can be nice to do this with a group, perhaps your flat or course mates if you have met already.
Useful Websites
There are a number of different web pages that you will use during your time at university. Below is a list of the key ones.
For your personalised information such as Course Details, ID number, Start/Finish date.

To find your Timetable, Personal Tutor, Attendance etc

To upload and submit coursework

To receive feedback and marks for coursework
The main use of Tabula is to check your timetable and submit coursework. You can export your timetable as a calendar file to put on your phone through Tabula or download the MyWarwick App.
Moodle is where your module and learning tools are kept. All of your lecture slides, lab briefs, and other content related to your actual learning. Your moodle pages wont be up until term starts so don't panic! moodle also shows you your lecturer's contact information and hours.
Both email and the moodle messaging system will be used by a number of staff to communicate anything related to their modules so don't forget to keep checking it.
Most of your lectures are video recorded and uploaded online for you to watch and review. All of these lectures can be watched on the Echo360 webpage which is accessed within moodle, with a link to Echo360 lecture caputre which is found on the right hand side of each module's page.
Evision is used for jobs that have a role outside of university. These include finding your end of year marks, paying tuition and accomodation fees and changing your information such as term-time address, emergency contact information, nationality or data protection permissions as examples. evision is also used to request documentation such as a student status letter which you can use to prove that you are student. You will need this if you ever live in private accommodation or if you want to open a student bank account (which we recommend you do!)
The SU website is where you will browse and join societies and sports club. Once you have joined you can browse all society and SU events that are coming up and buy tickets through the SU website so when you want to buy a ticket to one of our conferences or other events this is where you will be directed.
The SU also has a Student Advice Centre which provides support for students in almost all areas. Some of the most used support pages to check out are listed below but there are many more!
Facebook will be one of the biggest sources of society related information. All societies use Facebook to promote events, give information. It is also a great way to get in touch with us if you have any questions, are unsure about something or are looking for support in anything from degree work to personal issues.